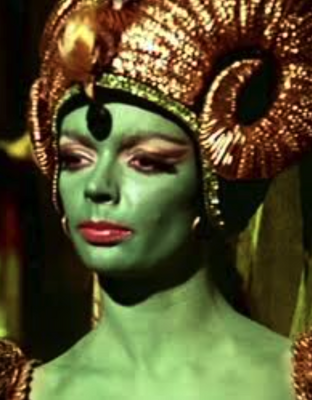 Lavinia Morley (Barbara Steele) is a villainess in the 1968 British horror film, "The Crimson Cult", which was orginally released as "Curse of the Crimston Altar".
Lavinia is a three-hundred year old witch who was burned at the stake.  Before she was burned however, she put a curse of the people of Greymarsh, and in particular anyone and their descendants that were responsible for killing her.
Lavinia has green skin, and wears a crown with rams horns and feathers.  Surprisingly even the green skin has little effect in covering up her beauty.
In the film, an antiques dealer, Robert Manning (Mark Eden) is searching for his brother, who was last known to have visited the remote house of Craxted Lodge in Greymarsh.  Greymarsh was their family's ancestral home.  When he arrives in the town at night, he finds a part is in progress, and he is invited to stay by Eve Morley (Virginia Wetherell).  Eve is the niece of the owner of the house, Morley (Christopher Lee).
Robert's sleep is restless and he has strange dreams of ritual sacrifice that greatly distrub him.  Enquiring about his brother, he is assured by Morley, the house owner, that the man is not there.
Manning's suspicions are aroused by nightmarish hallucinations.  Occult expert Professor John Marsh (Boris Karloff) informs Manning about a witchcraft cult led by Morley's ancestor, Lavinia Morley.  The cult is discovered to still be active, and Lavinia proceedes over it all.
Eve is captured by the cult and is due to be sacrificed.
In the end, Craxted Lodge is burned to the ground, and the head of the cult is consumed in the flames.
Barbara Steele appeared as Asa Vajda in the 1960 horror film, "Black Sunday".
Barbara Steele appeared as Elizabeth Barnard Medina in the 1961 horror film, "The Pit and the Pendulum".
Community content is available under
CC-BY-SA
unless otherwise noted.