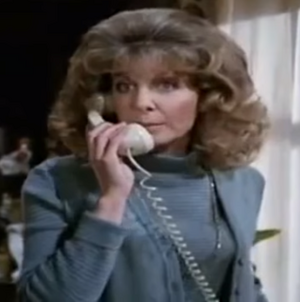 Lana Casales
 (Bonnie Campbell-Britton) is the main villainess from "Revenge and Remorse (The Guilty Alibi)," the fourth episode of 
Police Squad!
 (airdate March 25, 1982). She is the ex-wife of ex-con Eddie Casales, who was convicted for a series of bombings seven years prior, but was released in the episode's events.
When judge J. Oliver Maxwell was killed in an explosion, Lt. Frank Drebin and Capt. Ed Hocken were on the case, suspecting Eddie after his name was on a list of seven recently released convicts who were convicted by Maxwell. Regarding Lana, she was visited by the pair, with Lana stating that she hadn't talked to Eddie since she divorced him, and that he had been spending time at Club Flamingo with a woman named Mimi Du Jour.  After another bomb killed prosecutor John Symington, who was responsible for Eddie's conviction, the suspicions to Eddie increased--even more so after Mimi revealed that she lied about Eddie being at the movies with her.
Mimi also revealed a shocking revelation to Frank:  Eddie divorced Lana, not the other way around as Lana claimed. This led Frank to another conclusion:  Lana was behind the bombings. Having harbored bitterness towards Eddie over the divorce, Lana turned heel by committing bombings in a plan to frame Eddie out of revenge. Regarding Maxwell, the villainess entered the courthouse and switched the gavel with an explosive one, which went off when Maxwell banged it, and she later placed the bomb in Symington's car, which killed him as well. Her reveal began when Frank called Lana and stated that Mimi was in protection due to Eddie being on the loose, and offered the same to Lana, who turned it down.
Later that evening, Frank and Ed were staking out Mimi's apartment, when a villainous culprit donning black gloves, slacks, and black shoes appeared and prepared to blow up the complex. The duo left their car and held up the culprit, who was offically revealed as Lana (who had the attire attached to a housewife's dress). At that moment, the evil Lana ranted about Eddie leaving her for Mimi, stating that she would make sure that Mimi couldn't have Eddie if Lana herself couldn't have him. However, when she pressed the detonator, Lana was baffled when no explosion occurred, after which Eddie appeared and revealed that he had dismantled the bomb. Having been defeated, Lana was arrested for the bombings.
Community content is available under
CC-BY-SA
unless otherwise noted.