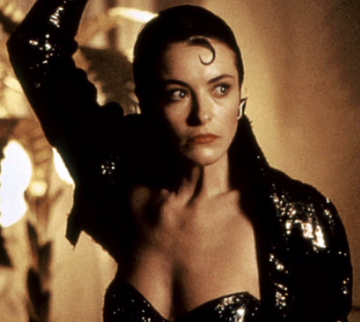 Lady Sylvia Marsh (Amanda Donohoe) was the main antagonist in the 1988 British horror film, "The Lair of the White Worm", which was loosely based the Bram Stoker novel of the same name and drawing upon the English legend of the Lambton Worm. The film was written and directed by Ken Russell.
Angus Flint a Scottish archaeology student uncovers the skull of a large snake at the site of a convent at the Derbyshire Bed and Breakfast run by the Trent sisters, Mary and Eve (Catherine Oxenberg).  He believes it may be connected to the local legend of the d'Amton Worm, a mythical snake-like creature from ages past said to have been slain in Stonerich Cavern by John d'Ampton, the ancestor of the current Lord of the Manor, James d'Ampton (Hugh Grant).
When a pocket watch is discovered in Stonerich Cavern, James believes that the worm may be more than just a legend.  The watch belonged to the Trent sisters' father, who disappeared a year earlier near Temple House, the stately home of the beautiful and seductive Lady Sylvia Marsh.  
As it is learned, the enigmatic Lady Sylvia Marsh is the immortal priestess to the snake god Dionin.  The snake roams the underground caves which connect Temple House with Stonerich Cavern.
Sylvia steals the skull and later abducts virginal Eve Trent to be the latest sacrificial offering to her snake-god.  However, her actions are discovered and archeologist Angus with the help of James manages to rescue Eve and destroy both Sylvia and the giant worm.
Prior to Sylvia's death, she was able to bite Angus, and Angus finds himself cursed to carry on the vampiric, snake-like condition.
Community content is available under
CC-BY-SA
unless otherwise noted.