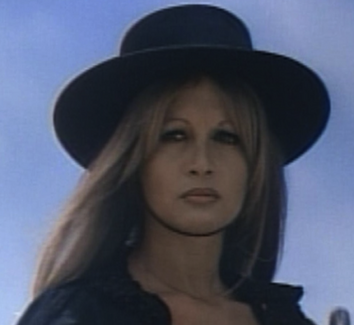 Lady Susan Walker
 (Anouska Hempel) is the main antagonist from the 1973 Russ Meyer exploitation film
(Black Snake)
. 
In the early 19th century England, Sir Charles Walker desides to diguise himself as a book keeper and head for San Cristobal Island in the British West Indies, to discover what happened to his brother Jonathan.  Jonathan had disappered in the wake of his marriage to Blackmore Plantation owner Lady Susan.  
When Charles arrives in San Cristobal he discovers that Lady Susan is a tyranical plantation owner.  She uses a whip to keep order within the slave ranks.  Lady Susan has forced the local men to join the black slaves.
Her latest husband has gone missing, making her a black widow. Lady Susan is in a relationship with a lothesome Irish overseer Joxer Tierney (Percy Herbert).  Her cruelty ends up causing a revolt.
In the end, she is hung upside down and burned alive amid the sugar cane.
Community content is available under
CC-BY-SA
unless otherwise noted.