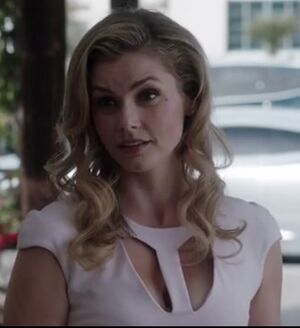 Krystal Markham
(Brianna Brown) is the main villainess from "White Lines," episode 6.11 of 
The Mentalist
(airdate January 5, 2014). She was first shown being encountered by Jane and Fischer regarding the murder of five DEA agents, stating that a Colombian drug cartel known as the Gulf Coast Ring is behind the murders. During this, Jane asks Krystal out, and the pair ended up going on a dinner date.
As the episode progressed, Krystal is revealed as the villainous boss of the Ring, as she crossed paths with Paco and his cohort, with the former accusing Krystal of going to the FBI and ratting them out. Krystal asserts her authority, and later pulls out a gun and kills Paco's ally. She later ties up Paco and gives an anonymous tip naming him as the one who killed the DEA agents. After this, the villainess shoots and kills Paco.
In the episode's climax, Jane meets Krystal on another date on a yacht, and it is there that he reveals that he has figured out that Krystal is the mysterious "Mr. X," who has been running the Gulf Coast Ring. After boldly admitting to killing Paco, the evil Krystal pulls out a gun with intent on killing Jane, only for Jane to reveal that he had the FBI on his phone and they listened to the entire conversation. After a slight delay, the FBI appeared and ordered Krystal to drop her gun, right before she was arrested.
Brianna Brown also appeared as femme fatale Megan Kane on Criminal Minds, and later played hidden villainess Eva Whitfield on Castle.
Brianna Brown also portrayed the evil Claudia Blaisdel on The CW's Dynasty reboot.
Community content is available under
CC-BY-SA
unless otherwise noted.