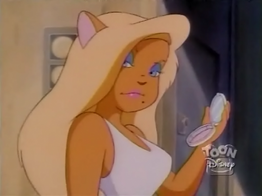 Kitten Kaboodle
is a villainess that appears in 2 episodes of TaleSpin.
Kitten is a highly seductive, evil, and manipulative blonde Hollywood starlet. For most of the first episode she is in, she wears a tight white jumpsuit. She has blonde hair, and wears pink lip gloss.  
Kitten's first appearance came in the episode "A Star is Torn". When Baloo saves her life from an apparent "accident", she invites him to co-star with her in her latest movie. But it turns out that the "accident" that Baloo saved her from was one of the many that Kitten had rigged on her movie sets. When Rebecca figures this out, she tries to explain it to Baloo, but he is too mesmerized by Kitten. 
Eventually Rebecca sets out to solve who is responsible for rigging these "accidents". She camps out in one of the stunt planes that are going to be used. She is then woken up by someone trying to rig the other stunt that Baloo is supposed to use. After she goes and chases down the masked perpretator, she sees that it is Kitten. Kitten first tries to act her way out of trouble, but Rebecca catches her bluff, and Kitten confesses that she is causing these accidents, because she needs more fame, and publicity to her name. Rebecca threatens Kitten that she is going to tell Baloo about the stunt plane that she rigged, but Kitten is not worried because she knows Baloo will believe her over Rebecca. On the day of the stunt, Rebecca tells Baloo about the sabotaged plane, but he does not believe her. As he is about to board the sabotaged plane for his stunt, Rebecca steals the plane from him and rides it herself to try and prove to Baloo that it is sabotaged. The plane backfires and, as Rebecca heads for a nosedive, Baloo takes the other non-sabotaged plane and tries to save Rebecca. He manages to save her at the last second and they survive. This angers Kitten and she throws a fit and yells out that Baloo was supposed to crash and that he ruined her acting career. Paparazzi capture her saying this, and Kitten is arrested.
In the episode "Louie's Last Stand", she makes a very brief appearence. 
Community content is available under
CC-BY-SA
unless otherwise noted.