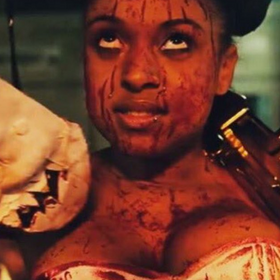 Kimmy (Brittany Mirabile) was a minor villainess from the 2016 dystopian horror movie The Purge: Election Year.
She was a teenage girl who, in her first appearance, came into Joe Dixon's store with her friend and attempted to steal candy. Joe caught her and, when he tried to get her to pay for the food, Kimmy began giving sexual advances to him before viciously threatening to cry rape if he didn't let her have her candy. At that moment, Joe's friend Laney Rucker approached the girls and told them to put the candy back. Due to Laney's reputation, she earned Kimmy's respect and she put the candy back, but gave threats to both Joe and Laney before leaving the store.
Later that night, after the Purge had commenced and Joe and his friend Marcos Dali started guarding the store, Kimmy and a group of her friends returned in a car adorned with Christmas lights, wearing macabre masks and carrying assault rifles. Kimmy taunted Joe, who was on the roof of the building, boldly claiming that she was taking her candy bar and he wasn't going to do anything about it. Marcos responded by shooting Kimmy in the ear and ordering her to leave. The psychotic Kimmy scowled at the men and announced that she had already killed her parents that night before driving off with her friends. Kimmy returned later with more friends, one of them now armed with a saw to break into the store. As the girls taunted Joe from outside, Joe called Laney for help. But while her friends began to saw through the security doors of the store and Kimmy danced and sang with her equally insane friend, Laney arrived in the medical van she used to patrol the Purge, running both girls over. She then exited the van and killed all of Kimmy's cohorts before shooting the murderous teen in the head, killing her.
Costume & Props
Edit
You can find Candy Girl Costume & here Kiss Me Mask at Purge Culture. They also have the exact replicas of all the Masks from the Purge.
Community content is available under
CC-BY-SA
unless otherwise noted.