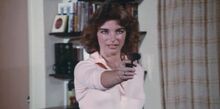 When a high school senior Kim Bentley (Jill Lansing) is dumped by her boyfriend, her grades fall drastically...to avoid failing, she begins seducing her male teachers. Thus begins her downward spiral into drug addiction and prostitution, and ultimately assassinations for a kingpin mob boss.
Jill Lansing was a fiery, sexy and attractive brunette actress who only starred in one memorably trashy and entertaining down'n'dirty 70's exploitation gem, but nonetheless made such a strong and indelible impression as the lead in that picture, that she continues to amaze and win over fans more than thirty years after the film was initially released. Lansing gave an excellent, inspired, and utterly convincing performance as the bitter, surly, and calculating Kim Bentley, a ruthless and shameless teenage tramp who resorts to drastic measures to eke out a living in the sublimely sleazy Crown International grindhouse delight "Malibu High." Despite her fierce and compelling portrayal of this deliciously nasty, immoral and alienated femme fatale character, Jill Lansing alas never appeared in another movie and seems to have vanished into thin air.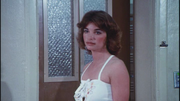 Community content is available under
CC-BY-SA
unless otherwise noted.