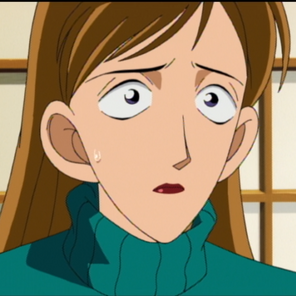 Keiko Yabuuchi (Masasumi Tsuda) is a villainess from "The Cornered Famous Detective! Two Big Murder Cases", a 2-hour special from Season 4 of Case Closed (airdate March 23, 1998). She was the wife of Yoshiyuki Yabuuchi, the son of wealthy philanthropist Yoshichika Yabuuchi.
After Yoshichika died of cancer and his brother Yoshifusa returned from Brazil for the reading of his will, Yoshiyuki's sister Hiromi called Yukiko Kudo (her childhood friend and Conan Edogawa/Shinichi Kudo's mother) to investigate Yoshifusa, who she and the rest of her family believed to be an impostor out to steal Yoshifusa's inheritance.
During the gathering, Machiko Yabuuchi (Yoshichika's second wife) was found dead in the family's well and Yoshifusa was nearly killed when an arrow was shot at him via an automatic crossbow. Keiko's immediate declaration that it was an arrow that had been fired was what revealed her as the one behind the crossbow being set up, as the arrow had gone through a window too quickly to be identified at first glance.
Cornered, Keiko confessed to setting up the trap the day after Yoshifusa arrived. Sharing the rest of the Yabuuchi family's belief that Yoshifusa was an impostor, Keiko sent a death threat to Yoshifusa in Brazil, warning him not to return home. When her threat failed and Yoshifusa came to the will hearing, the evil Keiko set up her arrow trap to scare him into leaving. During her confession, Keiko revealed to her shocked husband that she had borrowed money and was unable to repay her debts, and insisted that she had had no intention to kill Yoshifusa. Keiko was then accused of killing Machiko to increase the size of her inheritance, but Keiko adamantly denied murdering Machiko.
Keiko was proven innocent when Machiko's killer was revealed as Yoshifusa, who was really Dickson Tanaka, a friend of the long deceased Yoshifusa, having killed her when she was attempting to murder him for "Yoshifusa's" share of the inheritance. Dickson was impersonating Yushifusa to protect the real one's son Carlos, who is one of the heirs. Dickson knew that there would still be one attacker left beside Machiko, so he continued his impersonation until he could be sure that Carlos's life was no longer in danger and the will was read. After Yusaku Kudo (Yukiko's wife and Conan/Shinichi's father) revealed the truth about Dickson, he and Keiko were both taken away by the police.
Community content is available under
CC-BY-SA
unless otherwise noted.