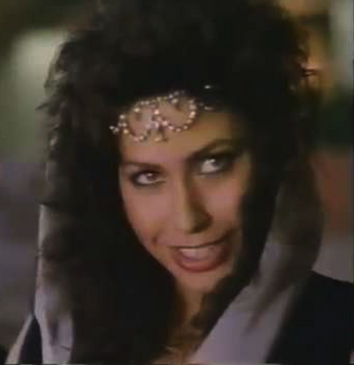 Kedesha (Marcia Karr) is a villainess in the 1988 action film "Night of the Kickfighters".
Kedesha is a mercenary terrorist who kidnaps the daughter of Carl McMann (Adam West) in order to get her hands on his invention, the HC 2000.  This is a high tech laser that can make rocks and tanks disappear.  The laser has a microchip in It that can target people on the battlefield based on scanning their eye.
McMann hires Bret Crady (Andy Bauman) to help him get his daughter Kathy (Lisa Alpert) back.  They put together a team to extract the daughter from her desert underground fortress.
Kedesha has a team of guards and a lead henchmen named Ponti (Carel Struycken), who reminds the audience of Lerch from the Addams Family.  She uses him in one instance to dispose of two men through strangulation.
Kedesha seduces Crady, but her knows what she is up to.  He fights off several of her henchmen.
In one scene, Kedesha is wearing a sparkly one piece bathing suit, while a large snake is wrapped around her neck.  She is having her feer massaged by one of her henchmen, and being fed grapes by Ponti.
Crady and his men are also captured and placed in a dungeon equipped with a microwave glass tube.  One of Crady's associates is killed in this fashion, and he is next.
In the end, Kedesha escapes through the desert in a jeep.  She attempts to shoot Crady with her rocket launcher.  When that is unsuccessful, she gets on a jet boat to get away.  However, one of Crady's men named Bomber, shoots the boat with a heatseeking arrow from his mini-crossbow.  As a result, Kedesha and her boat are blown skyhigh.
Marcia Karr appeared as hidden villainess, Rhonda Johnson in the 1987 film "Killer Workout" AKA "Aerobocide".
Community content is available under
CC-BY-SA
unless otherwise noted.