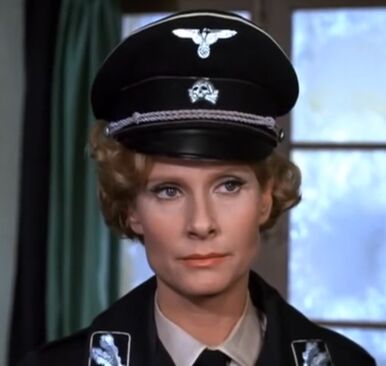 Colonel Karla Hoffman
(Marian Moses; 1932-2004) is a villainess from "The Ultimate Weapon," episode 3.28 of
Hogan's Heroes
(airdate March 16, 1968).
Karla is a colonel in the SS, and she was sent to Stalag 13 amid reports of Schultz's accurate predictions regarding attacks in Germany--which was part of Hogan's plan to have the ball bearings plant in Zuglitz bombed by the Allies. Her arrival is met by shock from Col. Wilhelm Klink (Werner Klemperer) and Gen. Burkhalter (Leon Askin) that Hoffman is a woman.  After being introduced to Col. Hogan (Bob Crane), Hoffman insisted that he stays during her inspection, doing so suspiciously.
Hoffman later talks to Hogan alone, after Sgt. Schultz (John Banner) sees a "vision" of Berlin being bombed next, suggesting that Hogan's connection to Schultz isn't the only one he has. As part of her plan to trap Hogan, Hoffman gives a hint that she plans to defect from Germany, with the conversation ending with Hoffman and Hogan kissing. However, after Hogan sees Hoffman about to leave the camp, the two meet in the back of the staff car. Hoffman stated to Hogan that she is off to Zuglitz on security business. Hogan, despite knowing what will happen at Zuglitz, doesn't stop her.
The Allied bombing of Zuglitz is successful, and Hogan and the rest of the heroes are surprised to see Hoffman entering Hogan's office at the barracks. She revealed that her actions were an attempt to trap Hogan and she never had plans to defect. However, since she was the one who recommended Schultz as a military genius, and it failed, she will have to defect or she'll face Germany's wrath. Hoffman asks Hogan to get her out of Germany, which he does.
Community content is available under
CC-BY-SA
unless otherwise noted.