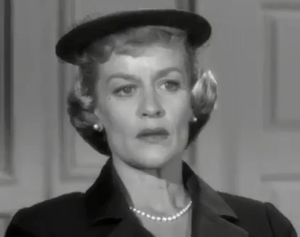 Karen Alder
 (Joan Banks; 1918-1998) is the main villainess from "The Case of the Negligent Nymph," episode 1.12 of 
Perry Mason 
(airdate December 7, 1957). She is the wife of wealthy George Alder.
Karen was first shown in her husband's office, engaging in a verbal spat with him while inebriated. Later in the episode, George is found deceased, and his secretary (and Karen's good friend) Sally Fenner stood accused of the murder. Perry Mason's encounter with Karen had her stating that she felt free for the first time in 20 years, while voicing her belief in Sally's innocence. In response to Perry's question about her getting a divorce while her husband was alive, Karen stated in her own words that it was difficult for the wife of an Alder to get a divorce. During trial, Karen testified to Hamilton Burger that she saw a tall, dark man leaving the office, leading to Burger accusing Karen of perjury and attempting to cover for Sally.
While Karen did perjure herself, it turned out to be done to cover up that she, not Sally, killed her husband. Karen had suspected earlier that George had killed his wealthy aunt Agatha Alder (though murder was later ruled out in Agatha's drowning death), and later placed a note with the accusation inside of a whiskey bottle she drank out of. Fed up with her marriage, and out of hatred towards her husband, Karen took possession of a fireplace poker and blugeoned George to death in his office, and it was in the episode's climax that Perry showed the bottle to Karen, which began her reveal. Afterwards, the evil Karen voiced her hatred of George and stated that she wanted to see him dead. Regarding accusations that she was planning to set up Sally, the villainess stated that she would never harm Sally, as she was the only one who wasn't ashamed of Karen, though George was the opposite. She added that she had a feeling of being free for a while after the murder, but it quickly went away, after which Karen was arrested (off-screen).
Community content is available under
CC-BY-SA
unless otherwise noted.