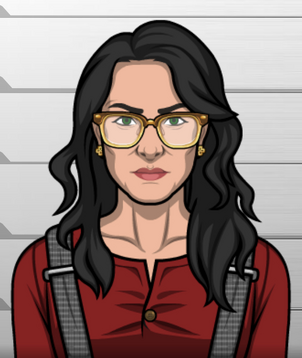 Joy Schneider is the villainess of "Byte the Dust", case #14 of Criminal Case: The Conspiracy, the 5th season of the crime solving game Criminal Case (release date April 19, 2018). She was the girlfriend of Ash Bison, the former leader of street gang "The Vipers" turned video game developer.
When Ash was found dead in front of the Skulls Microbrewery, Joy appeared heartbroken to hear the news of her boyfriend's death. Joy later confronted Troy Cassidy, the owner of the Skulls Microbrewery, accusing him of killing Ash due to the past rivalry between their dissolved gangs. Joy later confessed, however, that she and Ash were having problems, as she was growing tired of him getting back into his criminal ways and wanted him to choose between a life of crime or a life with her.
Ultimately, though, it was revealed that Joy had actually killed Ash, stabbing and eviscerating him with a razor. When confronted by the player and David Jones, Joy again attempted to blame Troy and Ash's former gang member and friend "Big Baby" before confessing. For her motivation, the evil Joy angrily revealed that she believed Ash was cheating on her, while naming arcade employee Kaitlyn Flynn as her boyfriend's "mistress". However, David revealed to Joy that they had discovered that Kaitlyn wasn't Ash's lover, but rather his long-lost daughter who had recently contacted him, shocking her and causing her to break down in tears. Joy was arrested and put on trial, where she claimed that murdering Ash was a "terrible mistake" and that she never would've killed him if he'd told her the truth about Kaitlyn. Regardless, judge Judith Powell reprimanded Joy for killing Ash and robbing Kaitlyn of her father before sentencing her to twenty years in prison.
Community content is available under
CC-BY-SA
unless otherwise noted.