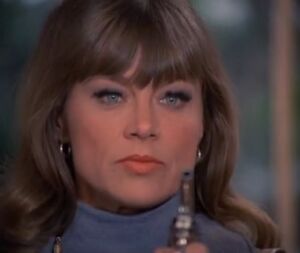 Joan Martin
 (Nita Talbot) was a villainess from "Babe in the Woods," episode 5.16 of 
Mannix
 (airdate January 5, 1972). She was the wife of wealthy conglomerate boss Lawrence Martin, and she was shown briefly exiting the funeral proceedings of Bobby Quinn--who was revealed as Joan's illicit lover.
Joan was also shown during Joe Mannix's meeting with Lawrence at their home, as Lawrence hired Mannix to acquire plans that were left by Quinn, who was killed in the beginning of the episode by hitman Carl Loder. After learning that Quinn went by the name Jason Riddle while showing a photo of him with his girlfriend, Mannix visited Quinn's girlfriend as their cabin, Sharon Taylor, and eventually found the plans with her help. However, Joan turned heel when she appeared at the cabin and held Sharon at gunpoint; threatening to kill Sharon if he didn't hand over the plans.
It was at that moment that Mannix revealed Joan's villainous scheme, as well as her illicit relationship with Quinn. Joan had hired Loder to kill Lawrence, as he was the only obstacle in her quest to get back with Quinn. However, Loder was offered a higher price by Lawrence to kill Quinn, and the reason was in the plans, which had evidence of Lawrence embezzling from his own company. Joan kept quiet after Quinn's death, because she figured that Loder missed Lawrence and killed Quinn by accident, but was shocked when Lawrence revealed that he had known Loder during Mannix's earlier visit. In response to Mannix revealing Lawrence's embezzlement and his plan to kill Mannix, the evil Joan stated that she considered killing her husband, but instead decided to use the plans to have him put in jail. The villainess again threatened Sharon, leading to Mannix giving her the plans.
Joan escaped from the cabin, only for Loder to point a rifle at her and order her to drop the plans. She attempted to negotiate with Loder, only for Loder to turn her down due to Lawrence's hefty payments to him. Joan fired a shot at Loder, who responded by shooting and killing Joan.
"Lawrence will never get the plans. I thought about killing him myself, but why pay with my life for his? This way, I can sit by and watch him rot. Ruining Lawrence now will be the happiest experience of our married life." (Joan Martin voicing her bitterness towards her husband during her reveal as a villainess)
Community content is available under
CC-BY-SA
unless otherwise noted.