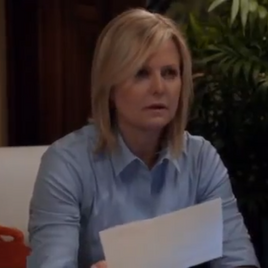 Joan Eckhouse (Dawn Evans) was a hidden posthumous villainess from "Home Invasions", episode 13.14 of Law & Order: SVU (airdate February 15, 2012). She was the wife of Sidney Eckhouse and the mother of their 14-year-old daughter, Emmy. Joan was also heavily involved in the New York Gay Rights Coalition, working alongside her colleague and secret girlfriend Maureen Manning.
At the beginning of the episode, Joan and Sidney were shot to death in their home while Emmy was non-fatally wounded, with the evidence making the murder appear to be linked to Joan's work. Detectives Olivia Benson and Nick Amaro questioned Maureen, who revealed her secret relationship with Joan and also that she had planned to leave Sidney for her once Emmy was older.despite knowing that Sidney was Molesting Emmy!
Joan's posthumous villainous reveal came after the people who killed both her and Sidney were revealed to be the Eckhouse's former housekeeper Carmen Vasquez and her brother Jimmy, having committed the double murder on Emmy's order. As revealed over the course of the episode, Sidney had been molesting Emmy, and Joan had found out about it through Carmen. However, the evil Joan callously refused to do anything to stop her villainous husband's cruelty, driving Emmy to have her abusive parents killed. This revelation was officially confirmed by Emmy when she confessed to being the orchestrator of her own parents' deaths, stating that she hated Joan more than she hated Sidney because she had done nothing to protect her from Sidney's abuse.
Joan Eckhouse is similar to CSI villainess Barbara Collins, as both were mothers of teenage girls who were molested by their fathers, only to turn a blind eye to their husband's actions. Both women received the same fate:  being indirectly murdered by their daughters.
Community content is available under
CC-BY-SA
unless otherwise noted.