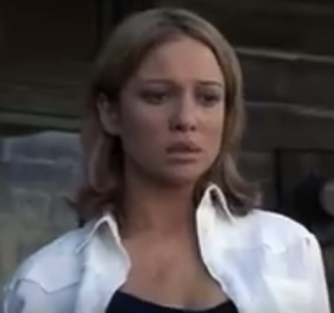 Jo Buckley
(Kate Beahan) was an antagonist in the 2002 adventure comedy film "The Crocodile Hunter: Collision Course".
Jo Buckley is a CIA operative hired to go retrieve a beacon that is a remaining piece of a US satellite that blew up. The beacon was swallowed by a crocodile in Australia. In the wrong hands the beacon can change the axis of power in the world, and two agents are also sent, Robert Wheeler (Lachy Hulme) and Vaughn Barcher (Kenneth Ransom). Buckley is sent to retrieve the beacon before Wheeler and Barcher, so that Department Director Ansell (Steve Vidier) can take Deputy Director Reynolds (Steve Bastoni) job.
At the same time, the crocodile lives in a river next to the home of Brozzie Drewitt (Magda Szubanski), who is an obnoxious cattle owner.
Meanwhile, the Crocodile Hunter (Steve Irwin) and his wife Terri are documenting the wildlife in the area. They are hired by the Department of Fauna and Fisheries to relocate the crocodile. After capturing the crocodile, the CIA agents believe that the Irwins also have the beacon.  
Irwin believes the agents to be poachers who are after the crocodile, and confronts them. Later he finds the beacon in a pile of feces that the crocodile leaves in his truck.
Still believing that Steve and his wife have the beacon, they show up in a boat. Jo arrives in an ultralight and throws a stick of dynamite down on Wheeler and Barcher's boat, destroying it and knocking the two agents in the river. Steve believes that he and Terri are caught up in the middle of a "poacher war" and, not wanting the dynamite to hurt the newly relocated crocodile, gets a rope out of the boat and lassoes the aircraft, causing it to crash in the river.  
Steve abandons Jo in the river to test fate with the elements and wildlife.  Sam and Brozzie arrive at the crashed plane and believes Buckley to be dead, but she survived and swam to shore and calls Ansell to tell him that she failed to retrieve the beacon. Ansell informs Buckley that he is on the run from the CIA and the police for hiring her for the mission. He is found by the police and arrested for his crimes, ending the phone call. It is not determined what the fate is for agent Buckley.
Kate Beahan also played hidden villainess Stephanie in 2005's Flightplan and appeared on Lucifer as the evil Justine Doble.
Community content is available under
CC-BY-SA
unless otherwise noted.