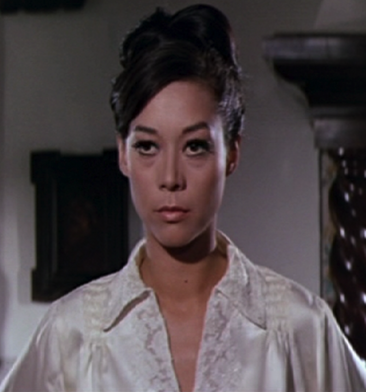 Jo-May Soon (Greta Chi) is a minor villainess in the 1967 spy film, "Fathom".
Jo-May first appears in a surveillance film provided by Col. Campbell (Ronald Fraser) to show Fathom Harvil (Raquel Welch) the grounds that she is to infiltrate. She is dressed in a bikini and sunning herself on the patio while a helicopter approaches the grounds. Jo-May is described as a major in the Mongolian KGB, and is a spy looking for the "Fire Dragon".
Later Fathom skydives to the Villa of Jo-May's partner, Peter Merriweather (Tony Franciosa). Jo-May finds Fathom holding a murder weapon over a dead body, and accuses her of killing him. When Peter believes Fathom's story, of being blown off course in a skydive, Jo-May becomes indignant. She is already jealous of the gorgeous Fathom, and now her partner is taking her side.
Jo-May later trails Fathom throughout Malaga. Fathom later shoots Jo-May's caretaker, Mrs. Trivers, and she chases Fathom into a bullring. While Fathom attempts to escape from the bull, Jo-May makes several unsuccessful attempts of throwing a spear at Fathom.
Both Jo-May and Fathom were attempting to retrieve the "Fire Dragon". Fathom was told that it hid a device that could trigger a hydrogen bomb, while Jo-May believed it was a stolen relic from the Ming Dynasty. In the end, it turned out to be just a stolen relic, and Fathom dropped the icon piece from the air into the birthday cake of Jo-May's at the end of the film.
Greta Chi appeared as Ling Ling in the 1965 episode "Ling Ling" for the TV series "Bewitched".
Greta Chi appeared as Kara , Chen's Assistant in the 1965 episode "The Prisoners of Mr. Sin" for the TV series "Burke's Law".
Community content is available under
CC-BY-SA
unless otherwise noted.