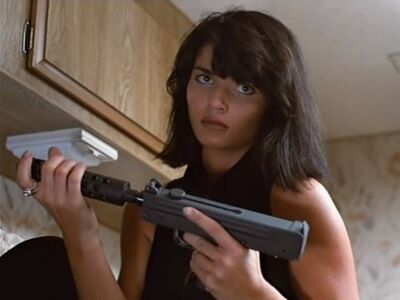 Jewels
(Cyndi Pass) is a villainess from the 1993 film "Bounty Tracker".
Jewels is a paid assassin for gangster Louis Sarazin (Eugene Robert Glazer), along with her partner Erik Gauss (Matthias Hues).
First she along with her colleagues kills many members of an accounting firm.  The only remaining member to escape is Paul Damone (Paul Regina).
Since they didn't finish the job, Jewels shows up at the home of Paul Damone.
Paul soon finds out that his partner used to laundry the money for Sarazin, and had to testify as chief witness against him.  As a result, Paul's brother, Johnny Damone (Lorenzo Lamas), who is a bounty tracker in Boston, visits Paul to protect him.  
Jewels then breaks into Johnny's hotel room, which she has a M11/9 with silencer.  Jewels targets Johnny's pregnant wife Isabelle Damone (Alisa Christensen), and now Johnny is out for revenge. After visiting Sarazin in prison, Jewels demands two million dollars in diamonds as payment, since it can't be traced.
Once again, Jewels tracks Johnny to his new hotel room, killing a maid.  Once again, Johnny is able to escape when the police arrest him, scaring off Jewels from pursuing him.
Donning a gas mask, the assassin's show up at the lair of Alberto Manuel (Judd Omen), and shoot up the entire team.
Next, the assassin team sets up a rendezvous with Johnny to meet them at car junk yard.  When he arrives, Jewels gets surprised when her gun is out of amunition.  As a result, she is knocked out by Johnny with one kick.  When she wakes, she once again pursues Johnny and stumbles upon some teenagers trying to rescue a friend who got stuck in a car. Just as she is about to shoot them, she discovers that she has been outflanked by Johnny. Just as she is about to turn around, she gets shot in the chest by him, landing with her back on the hood of a car.
Cyndi Pass appeared as Erin Miller, a henchwoman of Dr. Rachel K. Larkin (Brigitte Nielsen) in the film Mission of Justice.
Cyndi Pass appeared as henchwoman Cherise in the 1998 film The Company Man (a.k.a. Deadly Reckoning).
Community content is available under
CC-BY-SA
unless otherwise noted.