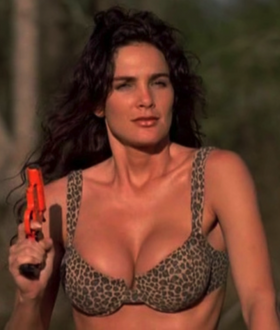 'Jewel Panther (Julie Strain) is a secondary antagonist in the 1993 action film "Enemy Gold".
Jewel is a faithful assassin who works for the film's main antagonist and crime czar, Santiago (Rodrigo Obregon). When three Dallas cops, Becky Midnite (Suzi Simpson), Mark Austin (Mark Barriere), and Chris Cannon (Bruce Penhall), begin interfering with Santiago's operations, the villain brings the female killer in to help take them out.
Eventually, the (surviving) bad guys get the upper hand on the heroes, but only briefly. Retreating to their helicopter, Jewel and Santiago plan to flee, but are ultimately blown out of the sky by Becky using an explosive crossbow bolt.
Julie Strain appeared as Blu Steele in the 1993 action movie "Fit to Kill".
Julie Strain appeared as Black Widow in the 1994 film "The Dallas Connection".
EvilBabes Unfiltered
Edit
Full gallery: Jewel Panther (Enemy Gold)
Community content is available under
CC-BY-SA
unless otherwise noted.