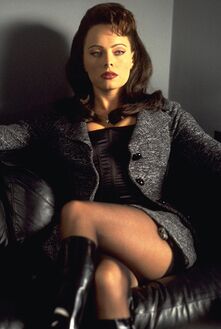 Jessica Priest
(played by
Melinda Clarke
) is a C.I.A Agent in the movie
Spawn
(1997). In appearance she seems to work for U.S government but in reality she is a dangerous psychopath killer who loves humiliate and make suffer her victims before death. Jessica is part of a conspiracy within the CIA.
She appears as the top rank assassin like a "super predator" with unmatched skills and abilities with firearms.
When the "top woman" arrives to face Spawn she dresses in a seductive pvc outfit and smokes a cigarette. Her powerful machine guns have no effects on the hell warrior. Spawn easily neutralises Jessica by blocking her attempt at kicking his groin and shoots at her with smile. Jessica has believed an instant that Spawn shouldn't dare shot at her because she is a beautiful woman but she was wrong.
Melinda Clarke's other villainous roles include Amanda Collins from Nikita, Velasca from Xena: Warrior Princess, and a Siren from Charmed.
Community content is available under
CC-BY-SA
unless otherwise noted.