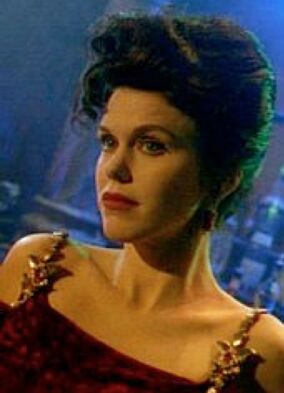 Janette DuCharme (Deborah Duchene) is a vampire in the first few seasons (1992-1996) of the TV series "Forever Knight".  She appeared in 48 episodes.
Janette is an owner of a nightclub, The Raven, which caters to a mixed clientele of vampires and humans.  The leading character, Nick Knight (Geraint Wyn Davies), often drops in to see her, and sometimes consults with her about cases in which he suspects the involvement of other vampires.  Janette serves as his liaison with the vampire community.
Janette is known for the way she dresses.  She prefers a glamorous version of Goth style, and is usually styled with her hair high, wearing a long evening dress which is suitable for her role as a nightclub owner.  Her clothes are characteristally black, sometimes with a touch of red, and are often accessorized with a choker necklace, opera gloves, and long earings.
It is revealed early on, that she had seduced Nick to the dark side in 1228, introducing him to her master, Lucien LaCroix (Nigel Bennett), who then turned him into a vampire.  Janette and Nick's relationship is often flirtatious.  In the second season, it is revealed that Nick and Janette were married for almost a century during the Renaissance, and it was Janette who left him.
In the second season, it was discovered that Janette was a prostitute in Paris around 1000 AD.  She caught LaCroix's eye when she resisted a soldier who tried to rape her, and he offered to turn her into a vampire.  She promptly killed her pimp.
In the third season, she was written out of the storyline, but returned as a guest character for a couple of episodes.
Community content is available under
CC-BY-SA
unless otherwise noted.