Wiki Targeted (Entertainment)
Play Sound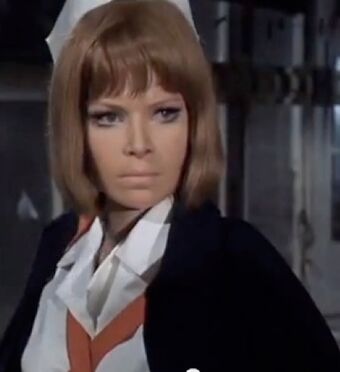 Jane (Uta Levka) is a secondary antagonist in the 1970 scifi thriller, "Scream and Scream Again".
Jane first appears as a nurse tending a man in a hospital room that just had a heart attack while jogging in suburban London.  After giving him water and leaving, the man discovers that his lower right leg has been amputated.
Later we find that Nurse Jane is working for evil Dr. Browning (Vincent Price), whose clinic specializes in limb and organ transplantation.  However, they are obtaining the limbs and organs by unnatural means....murder.
At the end of the film, Jane is assisting Dr. Browning in his operation room, when she is hit on the head and knocked into the wall by Konratz (Marshall Jones), who is an intelligence operative.  He then disposes of her body by drowning her in a vat of boiling acid while Dr. Browning watches in horror. He follows her awful fate in the vat of acid.
The whole movie: https://www.dailymotion.com/video/x1x30bt The final scene starts at 1:28:00
Uta Levka appeared as Gladys Gardner  in the 1966 German thriller "The Hunchback of Soho".
The whole movie: https://www.bing.com/videos/search?q=scream+and+scream+again&&view=detail&mid=21DEC17EE9A71A6F62FA21DEC17EE9A71A6F62FA&&FORM=VRDGAR The final scene starts at 1:28:00
Community content is available under
CC-BY-SA
unless otherwise noted.