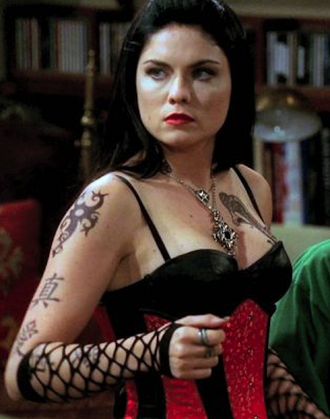 Isabella
(Jodi Lyn O'Keefe) is the villainess from
Two and a Half Men
episode 3.06, "Hi, Mr. Horned One" (airdate October 24, 2005).
Isabella is Charlie's Satan-worshipping girlfriend in the episode, and she is shown plaguing Alan with her practicing dark magic. She takes Alan's hair from his brush and threatens to place a curse on him. Alan mocks Isabella, only to end up nicking himself shaving--all the while, Isabella is heard laughing evilly. Regarding Charlie, Isabella introduced him to a coven of women as part of a plan to bring a Satanic spawn into the world. Just before the ritual is set to begin, Evelyn appears in her Halloween costume (the Wicked Witch of the West) and makes a veiled warning to Isabella, prompting the villainess to back off.
Isabella resurfaced as a haunting hallucination in Season Seven's "Gumby With a Pokey," and appeared as one of the many ex-girlfriends who attended Charlie's funeral in the anticipated Season Nine opener, "Nice to Meet You, Walden Schmidt."
Jodi Lyn O'Keefe is arguably most famous for portraying bully Taylor Vaughan in the 1999 teen movie She's All That and Gretchen Morgan from Prison Break.
Jodi Lyn O'Keefe's other villainous roles include serial killer Debbie Strand in Devil in the Flesh 2, vampiress Layla Simmons in Vampires: Out For Blood, tragic alternate reality villainess Gina Wright in A Nanny's Revenge, the evil Spider Demon on Charmed, wicked stepmother Lucy Lafleur on Eve, murderous femme fatale Lisa from The Finder, and bully Candace Aimes from Tru Calling.
Community content is available under
CC-BY-SA
unless otherwise noted.