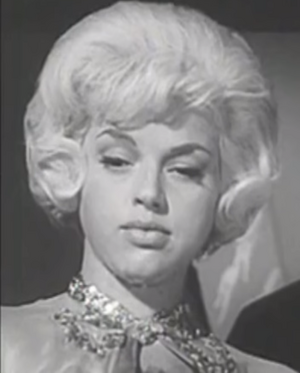 Irene Sadini
(Diana Dors; 1931-1984) was the main villainess in the 1962 episode "The Sorcerer's Apprentice," the controversial series finale of 
Alfred Hitchcock Presents
.
Irene is the scheming wife of magician Vincent Sadini, but she is having an affair with high-wire artist George Morris. The affair is caught by Hugo, a mentally troubled youth who is rescued by Sadini.  Later in the episode, Irene plotted to use Hugo to eliminate her husband. She used Hugo's belief that Sadini is the Devil and told Hugo that Sadini enslaved her, and that the only way she could be saved is if he kills Sadini.
Hugo later kills Sadini, only for George to enter and reveal Irene's evil plan to him, before he passed out drunk. Irene is pleased when Hugo tells her that he successfully killed Sadini, only to become upset that Hugo left George in the trailer with the body. Irene is taken aback by Hugo stating that he has Sadini's wand and he now wants to run away with her, and in her attempt to escape, she trips and hits her head. The villainess later wakes up to see that she is set up for the "sawing a woman in half" trick, and she gives a loud scream before Hugo cuts her in half, killing Irene.
Diana Dors appeared as Maxine Borman in the 1963 episode "Who Killed Alex Debbs?" for the TV series "Burke's Law".
Diana Dors appeared as the evil Mrs. Ardoy in the 1980 episode "Children of the Full Moon for the TV series, Hammer House of Horror.
Community content is available under
CC-BY-SA
unless otherwise noted.