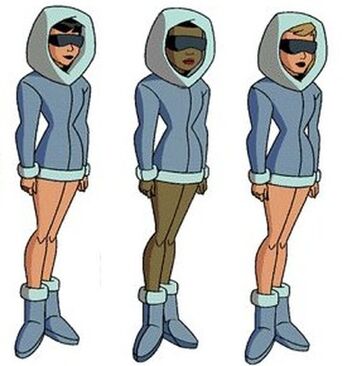 Ice Maidens were henchwomen in the 1997 episode "Cold Comfort" for the TV series "The New Batman Adventures". Three of the Ice Maiden's were voiced by Tress MacNeille, Cree Summer and Lauren Tom.
The Ice Maidens are bodyguards and henchwomen for Mr. Freeze. They were hired by Mr. Freeze to make the citizens of Gotham miserable and destroy their dreams. The group first destroyed an ancient dinosaur skeleton and destroyed a scientist's dreams. Mr. Freeze and his goons interrupted a celebration when he freezes a prized painting into destruction. Batman arrives and fights Freeze and his goons. One of the maidens points a freeze gun at Batman but deflects the pan, freezing her leg. Mr. Freeze and two of his ice maidens retreated, leaving one of the ice maidens behind.
Freeze targeted Wayne Manor and seeks to make Bruce Wayne miserable. They break into the Manor and slowly freeze Alfred. Batgirl arrives and knocks the freeze gun out of Mr. Freeze's hand while Bruce and Tim overpower the Ice Maidens. Freeze breaks out of the ice and an ice maiden knocks out Batgirl and Tim. They drove back to the laboratory and kept the doctors as hostages to find out their boss's condition. Batman and Batgirl infiltrated the lab but were caught and Mr. Freeze revealing his condition. Freeze allows them to live so they could see Gotham frozen. After Mr. Freeze leaves, Batgirl disarms the Ice Maidens and holds them off and takes them to custody.
Appearance
Edit
The Ice Maidens wear black goggles, hooded blue parkas and a pair of winter boots, they're shown to be without leggings, so their legs are exposed. Two of the Ice Maidens are white skinned with blond hair and black hair, and another one is black skinned with black hair.
Personality
Edit
They're shown to be loyal and dutiful to Mr. Freeze, but they were cold, rude, ruthless, sadistic to others, they're not nice and friendly, furthermore they like taunting others, especially enemies like Batman and Batgirl, showing no respect, and they have the power to intimidate and freeze people if they tried to mess with them. But look on the bright side they're protective and extremely watchful, so citizens would not really mess with them. They're described as "Femme fatale", very smart and experienced to battle, seduce their enemies and lead them into their doom.
"Bone-chilling, isn't it?" When one of the Ice Maidens taunting Dr. Madsen.
Community content is available under
CC-BY-SA
unless otherwise noted.