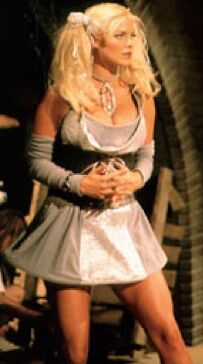 Hourglass (Victoria Silvstedt) is a henchwoman in the 2001 episode, "Crime Time" in the TV series "Black Scoprion".  She is a tall, sexy, bosomy blonde, who plays a moll type henchwoman to the villain Clockwise (Frank Gorshin).
Hourglass gets into a fight near the beginning of the show with Black Scorpion (Michelle Lintel) and is thrashed rather easily.  Hourglass is able to get a couple of leg kicks, but is pummeled to the ground.  Clockwise then freezes Scorpion with his clock, and he and his henchmen and Hourglass are able to escape.
Hourglass sets and drops an alarm clock bomb out the window of the Clockwise's vehicle in a chase scene with Black Scorpion.  It is a direct hit, and it sends Scorpion's car for a spin, which allows Clockwise and his minions to get away once again.
Hourglass wears a short silver short skirt with bustier that accentuates her hour glass figure and pushes up her amazing cleavage.
Finally, Black Scorpion finds Clockwise's hideout.  She gets into another fight, and is knocked out once again.  As she lays there on the ground, Scorpion remarks, "Now that is what I call a Swiss Miss".  Clockwise is then defeated by Scorpion by speeding up the clock which ages the villain until he dies.  There is no mention of her fate, but she is probably arrested.
Community content is available under
CC-BY-SA
unless otherwise noted.