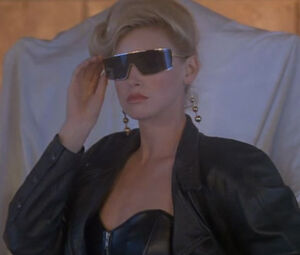 Alonna Shaw played an unnamed hitwoman in
Miami Vice
episode 4.11
A Rock and a Hard Place
.
She was assigned together with a male killer to murder the fiancée of protagonist Sonny Crockett, the singer Caitlin Davies. To setup the trap, Caitlin was send to a photo shooting. While entering, Caitlin and Sonny meet the hitman taking pictures of the hitwoman, so they are to be assumed photographer and model.
The "photographer" told Caitlin to wait some time, while the "model" started to open her top. This made Caitlin jealous, so she covered Sonny's eyes and ordered him to wait outside. However, Sonny got suspicious outside, so he hurried back just in time to shoot the two goons before they could do any harm to Caitlin.
Alonna Shaw is also known as Kara's "love interest" in Double Impact.
There is a (dubbed) clip of the show to be found here: https://www.youtube.com/watch?v=laA8enDUfY0
Community content is available under
CC-BY-SA
unless otherwise noted.