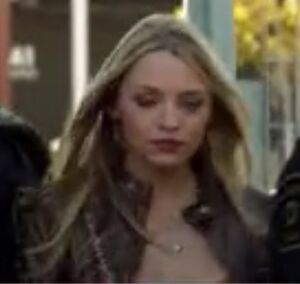 Hillary Stone
 was a villainess from "Sympathy For the Devil," episode 2.13 of 
Body of Proof
(airdate January 17, 2012). She was the notorious defendant in the murder case involving her five-year-old son—a case that had Joan Hunt (mother of the series' main protagonist Megan Hunt) as the presiding judge.
As revealed in the episode's climax, Hillary actually did murder her son, but due to prosecutorial failures, she was acquitted. The callous villainess was shown leaving the courtroom, dodging photographers and flipping the bird as she entered a taxicab. She then went to her ex-boyfriend Craig, and had sex with him in an attempt to have another child. After this, Hillary called her mother, Ruth, and was picked up by her—all while telling her mother about her dalliance with Craig. She stated to Ruth that she didn't want Craig, only wanting to sleep with him to have another baby, stating that she "wanted to get it right this time."
Realizing that her daughter killed her grandson, Ruth slammed the brakes, causing Hillary to fly into the dashboard. Hillary ran out of the car and later tripped and hit her head at a nearby construction site, but was still alive until Ruth buried her daughter after seeing that she wasn't moving, with the burial killing Hillary.
Community content is available under
CC-BY-SA
unless otherwise noted.