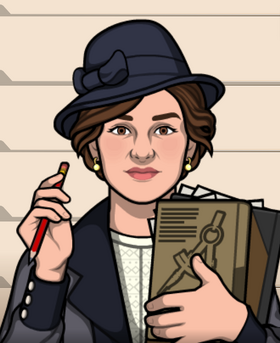 Henrietta Vanderbilt is the villainess of "Breaking the Glass Ceiling", case #13 of Criminal Case: Mysteries of the Past, the 4th season of the crime solving game Criminal Case (release date February 15, 2017). She was an architecture student and an apprentice of her professor Norah Barnlow, the architect assigned to the creation of the Crystal Palace for Concordia's World Exhibition.
When Norah was found murdered at the construction site, having been crushed under a sheet of glass after the rope holding it was cut, Henrietta appeared heartbroken when told the news by the player and Maddie O'Malley and revealed how inspired she had been by her mentor's work and dedication. Later on, however, it was discovered that Norah had given Henrietta a failing grade on a sketch she made, with Henrietta revealing the reason to be her father's unexpected death during her finals. Henrietta also expressed anger at Norah refusing to let her retake the exams, while callously disregarding her heartache over the loss of her father.
Ultimately, the evidence pointed to Henrietta as Norah's murderer and she was confronted by the player and Maddie, with the former tricking Henrietta into accidentally confessing. After that, the evil Henrietta fully confessed to killing Norah, stating that her motivation went beyond her failed exams. As Henrietta revealed, her father had also been an architect and was in competition with Norah for the Crystal Palace project. When Norah ended up receiving the project over him, Henrietta's father committed suicide out of shame, leaving Henrietta vengeful against Norah for (in her mind) driving her father to his suicide. During her confession, Henrietta defended her actions as being "an eye for an eye" and that her father's plans for the Crystal Palace had been better than Norah's. Henrietta was arrested and put on trial, where she was sentenced to thirty years in prison.
"Papa was an architect too... He was in competition with Miss Barnlow for the Crystal Palace project. His design was far superior to her silly house of glass cards! But then the Mayor came out in favor of Miss Barnlow and she won the project! My poor papa was distraught! Papa was so ashamed of having lost that... that I came home one day to find that he had taken his own life! It wasn't fair that Norah still got to live while my papa was gone forever!" (Henrietta revealing her motivation for killing Norah Barnlow)
Community content is available under
CC-BY-SA
unless otherwise noted.