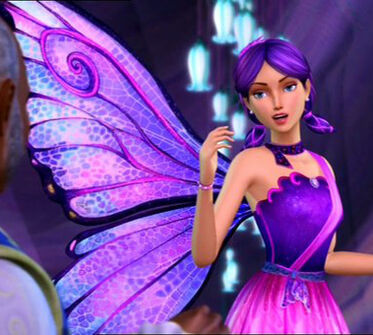 Henna (Nicole Oliver) is the main antagonist in Barbie: Mariposa. Henna wanted to take over the fictional Spanish fairy kingdom of Flutterfield and rule it as queen. She was originally Queen Marabella's attendant. She poisoned the queen so that after two days, she would die, and Flutterfield would be in danger; Queen Marabella was a magical fairy who, by just existing and being alive, lightened the kingdom up with lights in the trees of Flutterfield like a light bulb in a lamp. Skeezites, creatures who like to eat Butterfly Fairies, hated light; it would blind them. The lights would go out if Marabella died. Henna teamed up with the Skeezites by telling them they could eat as many Butterfly Fairies as they wanted when she was the queen. Prince Carlos, the queen's son, informed Mariposa that she needed to find the antidote for his mother. Mariposa left Flutterfield, found the antidote, and saved the queen. Henna escaped with the Skeezites, vowing revenge. Henna is ambitious, scheming, and overall very clever. She wanted to be queen instead of a mere attendant, and to do this she poisoned Queen Marabella in secret while acting like she was loyal to the end. Unlike many other Barbie villains, she is on good terms with Mariposa and the kingdom and is well-liked by everyone there, but this is a mask to hide her true intentions.Henna manipulated Mariposa and the other fairies into believing she was a good fairy, and it was only through the intervention of Prince Carlos that her true nature was revealed. She also told the Skeezites that if she were queen, they could eat as many fairies as they wanted, showing little to no concern for her fellow butterfly fairies. Henna is a butterfly fairy who has purple, pink and blue wings. She has light skin, blue eyes, and purple hair. Her eyebrows are brown. She wears her hair in pigtails. Her outfit is a purple and pink neck accessory and dress.
Community content is available under
CC-BY-SA
unless otherwise noted.