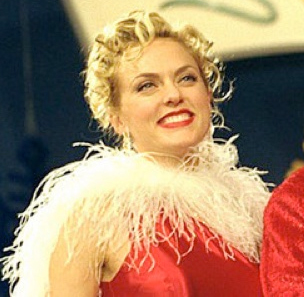 Heidi Gardelle, plays a sexy and leggy weather girl in the 2002 Christmas comedy film, "Mr. St. Nick". Heidi is played by the gorgeous actress, Elaine Hendrix.
Heidi is in cahoots with a crooked businessman to pull off a scam in an online charity run by Nick St. Nicholas (Kelsey Grammar). Heidi tricks Nick into sponsoring the charity that funnels its income into an offshore bank account opened in his name, and attempts to cash it out with her real boyfriend. She first wins Nick over in a romantic way.
Nick slowly turns into Santa Claus, and figures out he has been manipulated by the beautiful Heidi. At the end of the movie, Heidi is confronted at the airport attempting to board her flight with her boyfriend. Nick exposes her and then allows her to get on the plane. She sits next to her boyfriend, and the next thing we see is that she and her boyfriend are tied up in ribbon with a note to escort them to jail.
Community content is available under
CC-BY-SA
unless otherwise noted.