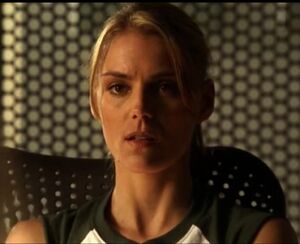 Heddy Latham (Susan Misner) is the main villainess from "Not Landing," episode 2.21 of CSI: Miami (airdate May 3, 2004). She is a pilot who was having an affair with next door neighbor and fellow pilot Adam Decker. During one of their trysts, Heddy cooked up an idea for an applied fuel cell, and used her eyeliner to write the equation on a pillowcase. However, Heddy learned that Adam took her equation to Washington and registered the patent.
Furious over Adam stealing her idea, Heddy plotted a murderous revenge. She snuck into Adam's hangar late at night and drilled holes inside his plane, wearing Adam's goggles for protection. As a result of Heddy's sabotage, Adam was poisoned by carbon monoxide, and the plane crashed after he died. When she was interrogated by Horatio and Calleigh, Heddy denied everything and stated that she had no proof that she killed Adam, before walking out.
After learning that the DNA on Adam's goggles was female, Horatio went after Heddy, who attempted to escape in her plane. Horatio blocked Heddy and ordered her to exit her plane, and it was at that moment that the vengeful villainess was under arrest for Adam's murder.
Community content is available under
CC-BY-SA
unless otherwise noted.