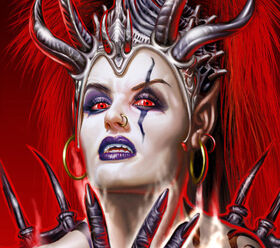 The Necromancer
Hecubah
is the main antagonist of the computer game
Nox
and was voiced by Joanna Cassidy (best known as the snake replicant from "Blade Runner").
Decades before the game takes place, a great war was fought between the humans and the Necromancers from the Land of the Dead, who tried to take over the world with their unholy powers. The war finally came to an end when the hero Jandor defeated their armies with a powerful artifact known as the Staff of Oblivion and trapped their souls within the magical Orb which powered the staff. In the aftermath of the battle, Jandor found a infant girl in the Land of the Dead and, unsure on what to do with a possible descendant of the Necromancers, left the girl in the care of a ogre village. After this he disassembled the Staff and left each of it's three pieces in the care of Lord Horrendous of Dün Mir, Aldwin of Ix and the Arch-Wizard Horvath from Castle Galava respectively. Horvath also took the Orb, which he transported to another dimension, ending in the hands of Jack Mower on Earth, who thought the artifact was just a mere decoration.
The girl, Hecubah, eventually learned about her heritage as she grew up and proclaimed herself the Queen of Necromancers, deciding to continue where her ancestors left off and take over the world of Nox. She casts a spell to summon the Orb back to Nox, seeking to reassemble the Staff of Oblivion, but in doing so she also inadvertently transports Jack Mower as well, who falls into Jandor's airship and is then forced to travel all over Nox, reassemble the staff himself and stop Hecubah so that he can finally return home. Jack pursues Hecubah and reassembles the staff, while having to watch as she kills both Horrendous and Horvath (when playing with the Wizard class, Jack has to kill Horrendous himself). Jack finally confronts Hecubah in the Land of the Dead, where she made her fortress.

She is defeated by the player in three different ways, depending on, which hero-character is selected:
as a warrior, she is simply defeated, her future is left unknown, since the hero is sucked back to his miserable life in a trailer park on earth through a portal.
as a conjurer, she is impaled between spikes.
as a wizard, she is redeemed by the the "light force" of the hero and forgets about her evil doings.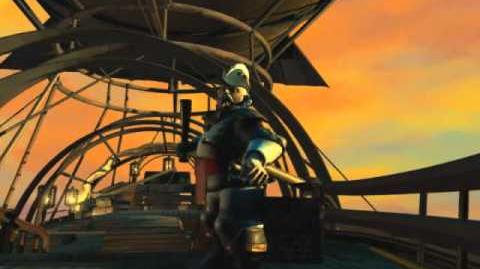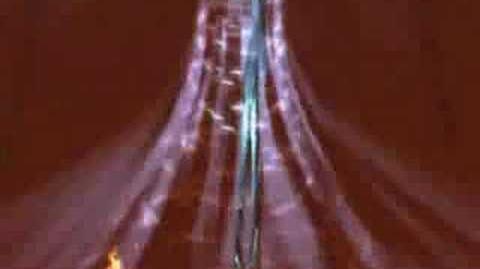 Community content is available under
CC-BY-SA
unless otherwise noted.