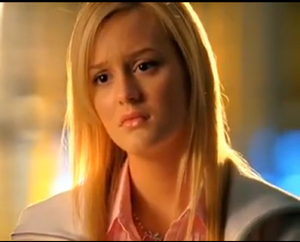 Heather Crowley
(Leighton Meester) is the hidden main villainess from "Broken Home," episode 5.16 of
CSI: Miami
(airdate February 19, 2007). She is the daughter of
Kimberly
and Edward Crowley, and also the babysitter for the Montavos' young son Justin whenever the couple was away.
Heather's parents' marriage was not a perfect one, as it was revealed that Kimberly was having an affair with Zach Griffith, Heather's boyfriend. She witnessed a confrontation between Edward and Zach, with the former telling the latter that he knew he was sleeping with her and also ordering for him to stay away from her; Heather initially believed that she was the "her" they were arguing about. After Zach killed Edward with his motorcycle helmet, Heather also witnessed Kimberly running to him, realizing that she was who the two men were actually arguing over. An angry Heather confronted her adulterous mother, which ended with Heather going into a rage and killing Kimberly with a grill fork.
After her parents' murders, the evil Heather agreed to cover up for herself and Zach, and continued doing so by acting shocked when she "found" the bodies of both Edward and Kimberly while she was looking after Justin. At the climax of the episode, a sexual examination of Kimberly's body revealed her affair with Zach, and it was Ryan Wolfe who interrogated Heather and also revealed that she killed her mother. Cornered, Heather confessed to her murderous crime, stating that she couldn't believe that her mother would sleep with her boyfriend. The episode's final scenes showed Zach and Heather being arrested for the two murders that they perpetrated.
Leighton Meester appeared as Blair Waldorf in the TV series "Gossip Girl".  She appeared from 2007 to 2012.
Community content is available under
CC-BY-SA
unless otherwise noted.