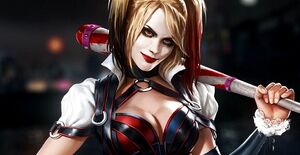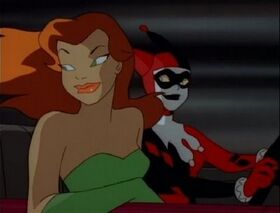 Harley Quinn (born Harleen Quinzel) is a villainess who made her first appearance in Batman: The Animated Series.
She worked as an intern for psychology in Arkham Asylum. She was a gifted student who had only the best grades and simultaneously outstanding gymnast. While studying the inmates in Arkham, it was primarily of a very special fascination. She begged all three months after their superiors until she was allowed to handle it. After winning their sympathy, he seduced her and she fell over all dimensions in him. After repeatedly helped him to escape from Arkham, the authorities were aware of them, their licenses were withdrawn and brought in a cell. During an earthquake in Gotham, she managed to escape and it was very even to Harley Quinn, sidekick and mistress of the clown prince of the Joker.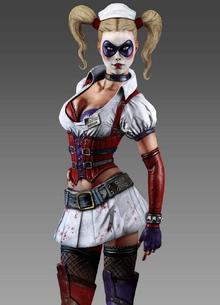 Community content is available under
CC-BY-SA
unless otherwise noted.