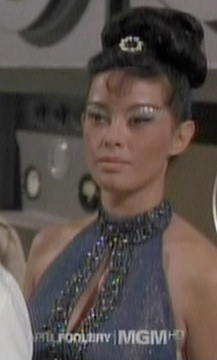 Hardjob, Goldfoot's personal assistant or henchbabe is played by Moa Tahi in the 1966 movie, "Dr. Goldfoot and the Girl Bombs".
Hardjob plays the Chinese henchgirl for Goldfoot, whose plan is to drop a nuclear bomb on Moscow and start World War III. They create the girl bombs (robots) to kill the NATO generals one at a time.
Hardjob appears in several sexy outfits. She first appears at the Paris airport wearing a green dress and pauses to adjust her stockings. Hardjob knocks out the coat check girl and then Goldfinger sends his robot duplicate to her station to eliminate the Belgium general. Later Hardjob wears a blue nightgown when Dr. Goldfoot (Vincent Price) is in his lair creating and inspecting his girl bombs. The name Hardjob is a parody on name of the henchman Oddjob (Harold Sakata) in the 1964 James Bond movie "Goldfinger".
At the end of the movie, she serves as the pilot on Goldoot's plane, complete with black leather fighter pilot jacket, blue cargo pants, black boots, and black pilot hat. A fight breaks out in the plane between all of the people onboard, and Hardjob puts the plane in auto drive to go back and help Goldfoot. She gets involved in a catfight with Rosanna (Laura Antonelli) who rips the clothes off her. She is left wearing only her gold bikini.
Hardjob and Goldfoot jump out of the plane at the end.
Moa Tahi is also credited as Moana Tahi, and is probably best known as Kinojo, the scantily clad girl killed by a giant mechanical spider in the 1965 movie, "Bloody Pit of Horror".
Community content is available under
CC-BY-SA
unless otherwise noted.