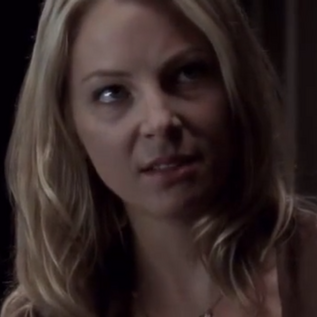 Hannah Cleary (Anastasia Griffith) is the villainess of "Golden Boy", episode 1.02 of New Amsterdam (airdate March 6, 2008). She was a teacher at the prestigious Dray Academy and the wife of Paul Cleary, the school's track coach. She was the adviser of scholarship student Matt Shaw, and the two were involved in an illicit affair. It was also later revealed that Hannah was suspected of inappropriate conduct with a student at her former school, but left before charges could be filed.
When Matt told Hannah that he was planning to get back together with his ex-girlfriend Marika Soloway, Hannah drugged Matt before restraining his hands with rope and tying a plastic bag over his head, causing Matt to suffocate to death and making his death initially appear to be auto-erotic asphyxiation gone wrong. Later on, when detectives John Amsterdam and Eva Marquez began investigating, Hannah spoke highly of Matt's achievements and pointed the detectives in the direction of Matt's troubled friend Tommy Langer, who Matt sold drugs with to keep up with tuition. Hannah was revealed as Matt's lover during his memorial, however, when Marika showed images of the two being intimate on a nearby monitor (having found the photos on Matt's phone by accident).
When confronted by John later on, Hannah claimed that she and Matt were in love and revealed that Paul had learned about the affair sometime prior. As the detectives began to suspect Paul of killing Matt, the evil Hannah killed her husband with a drug overdose and forged a confession note to make it appear that Paul had killed himself out of guilt. But after discovering subtle clues showing that the note was doctored, John brought Hannah in for questioning and showed her a note he had faked in Paul's name, revealing Hannah as the true culprit. After initially denying everything, Hannah confessed to killing Matt and Paul, accusing Matt of using her and revealing that she'd killed Paul when he learned what she'd done. Hannah was later arrested (offscreen).
Hannah Cleary was New Amsterdam's first villainess.
Anastasia Griffith also appeared on Law & Order: SVU as the villainous Leah Keegan.
Community content is available under
CC-BY-SA
unless otherwise noted.