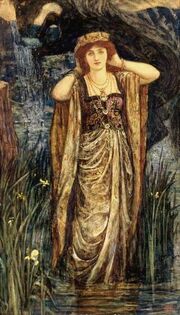 Guinevere  is the wife and queen of King Arthur in the Arthurian legend. Guinevere has been portrayed as everything from a villainous and opportunistic traitor to a fatally flawed but noble and virtuous lady. She has first appeared in Geoffrey of Monmouth's Historia Regum Britanniae, a pseudo-historical chronicle of British history written in the early 12th century, and continues to be a popular character in the modern adaptations of the legend.
In the later medieval romances, one of the most prominent story arcs is Queen Guinevere's tragic love affair with her husband's chief knight and friend, Lancelot, indirectly causing the death of Arthur and many others and the downfall of the kingdom. This story first appeared in Chrétien de Troyes's Lancelot, the Knight of the Cart and became a major motif in the Lancelot-Grail of the 13th century, carrying through the Post-Vulgate Cycle and Thomas Malory's Le Morte d'Arthur.
Community content is available under
CC-BY-SA
unless otherwise noted.