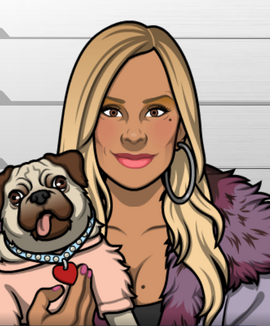 Guadalupe del Prado is the villainess of "Stonewalled", case #8 of Criminal Case: The Conspiracy, the 5th season of the crime solving game Criminal Case (release date March 8, 2018). She was a famous socialite and the best friend of lawyer Stella Ziarati, who went missing four years prior to the events of the case.
An earthquake striking Fairview resulted in Stella's corpse being discovered, sealed into the wall of her former penthouse. When Guadalupe was informed of Stella's death, Guadalupe initially appeared heartbroken by her best friend's death. But later, Lola became a suspect when it was revealed that Guadalupe had had a past conflict with Stella, having believed she set her up to have an embarrassing interview with Pretty Fair magazine.
Ultimately, it was discovered that Guadalupe had been Stella's killer, having bludgeoned her to death with a law award while the women were redecorating Stella's apartment before sealing her inside the wall. Guadalupe later disposed of the tools she'd used by burying them in Cooper Park, with evidence on them revealing her as the culprit.
After initially denying everything, the evil Guadalupe confessed that she'd killed Stella for attempting to prosecute a member of her family, but adamantly refused to say anything else and bemoaned how the earthquake had unearthed her crime. Guadalupe was arrested and put on trial, where she proclaimed that she'd killed Stella to defend her family before being sentenced to seventeen years in prison. It was later revealed that Guadalupe's father, Pablo del Prado, was the notorious drug lord known as "Pablo el Loco", and Guadalupe had killed Stella after learning that she was building a case against him.
Community content is available under
CC-BY-SA
unless otherwise noted.