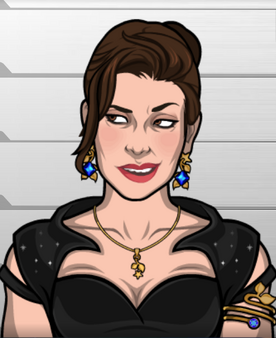 Grace O'Brien is the villainess of "Killer Takes All", case #51 of Criminal Case: Pacific Bay, the 2nd season of the crime solving game Criminal Case (release date May 6, 2015). She was a woman at the Mennagio Casino who was questioned regarding the murder of croupier Alfie McNaulty, as a photo was recovered of her playing a game of cards at his table.
While Grace initially claimed that she didn't know Alfie, the investigation revealed that Grace and Alfie were former partners in crime, robbing several jewelry stores in Pacific Bay. A week prior to the case's events, Grace approached Alfie and asked for his help in robbing the jewelry shop in Paradise City, only for Alfie to inform Grace that he was done with his criminal lifestyle. When Grace attempted to rob the store alone, Alfie followed her and threatened to turn Grace in to the police.
Believing Alfie to be untrustworthy, Grace plotted to silence her former cohort by killing him. After playing a few games at Alfie's table, Grace left a message for him on a shrimp platter to meet her outside the casino. There, the evil Grace attacked Alfie and impaled him in the eye with his croupier stick, killing him. Eventually, the clues Grace left behind pointed to her being behind Alfie's death, leading the player and Frank Knight to confront Grace at the casino. After initially claiming innocence, Grace remorselessly confessed to murdering Alfie, blasting him for not joining her plot to rob the jewelry store. At her trial, Grace attempted to charm judge Edward Dante into giving her a deal, with the judge refusing and sentencing Grace to twenty years in prison, much to the villainess' rage.
Community content is available under
CC-BY-SA
unless otherwise noted.