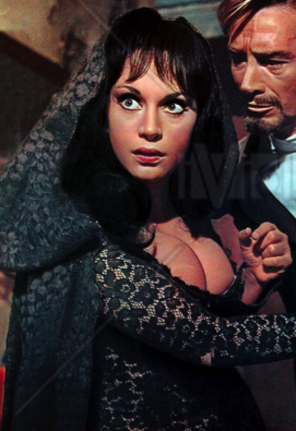 Glinka (Adriana Ambesi) is the handmade/slave of the vampire in the 1969 film, "Fangs of the Living Dead", which was originally entitled, "Malenka, the Vampire's Niece".
Glinka is first shown in the film, when she visits Sylvia (Anita Ekberg) in her bedchamber of the castle at night. She tells Sylvia about her great grandmother the witch, and about her uncle the Count Walbrooke (Julian Ugarte), who plans to do her harm. She then attempts to feed on Anita's neck, but is caught by the Count. The Count drags her to the dungeon, where he ties her up and begins flogging her. Sylvia rushes to her aid, but when the Count shows her what she really is, a member of the undead with vampire fangs, she rushes out.
Glinka refuses to leave the side of the Count, despite how awful she is treated by him. Later we see her flirt with Max (Cesar Benet), who is at the castle along with his friend, Dr. Piero Lufuani (Gianni Medici), Sylvia's fiancé. She also gets into a catfight or bat fight with Bertha Zemis (Diana Lorys), the local barmaid and pub owner, who has also been turned to a member of the undead by the Count. In the fight, Glinka gains the upper hand by waving a torch at Bertha. However, Bertha reverses the fortune, and begins to drag the lovely Glinka across the floor before the Count orders them to stop. When the Count is struck with the same torch through the heart, we see Glinka and Bertha watch in horror. However, we do not see whether this is the end of Glinka or Bertha. We do see that Max has been turned by Glinka, and chases after Freya (Rosanna Yanni), Bertha's sister.
Community content is available under
CC-BY-SA
unless otherwise noted.