Wiki Targeted (Entertainment)
Play Sound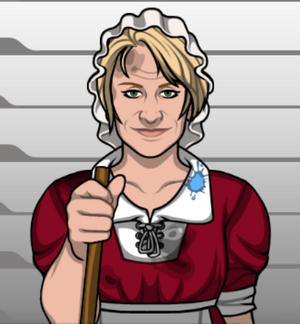 Gilia La Bonne is a villainess from "Murder is No Joke", case #13 of Criminal Case: Travel in Time, the 6th season of the crime solving game Criminal Case (release date June 6, 2019). She was a scullery maid at the Chambord castle, which housed King Francis I, the king of France in 1515.
The T.I.M.E team arrived in Chambord so Leonardo da Vinci could finish a mural he was tasked to paint for King Francis, with the player and Zara Tien discovering the body of court jester Triboulet (real name Nicolas Ferrial) in the castle garden. When Gilia was questioned by the detectives about Triboulet's murder, she expressed callous indifference to the jester's murder while also revealing her resentment at her work in the Chambord castle.
The beginning of the case's third chapter had royal guard/musketeer Alexandre Devereaux coming to Zara and the player with the claim that he'd apprehended Gilia, having caught the maid as she was stealing from the king. Gilia's reveal as a villainous thief led Alexandre to believe that Gilia was also Triboulet's killer, with Zara and the player going to question Gilia in the barrocks. When confronted with her crimes, Gilia confessed to habitually stealing from the king, while revealing that Triboulet had once caught her stealing a candlestick.
Gilia's confession to fearing Triboulet would reveal her deeds to the King during one of his routines led Zara to believe Gilia killed the jester to silence him, with Gilia fiercely denying the allegation and claiming she would never steal again. Zara decided to let Gilia off with a warning without reporting her to the king, and she was ultimately truthful in her denial of killing Triboulet. Later on, Penelope Sage was discovered to have run away with Andre due to falling in love with him, with traces of pierre d'argent (silver cleaner) found on Penelope's discarded hair ribbon revealing she came into contact with Gilia before leaving. Upon being approached by the player and Zara again, Gilia stated that she had seen Penelope and Alexandre gathering provisions from the banquet hall; all while maintaining her usual gruff attitude from before.