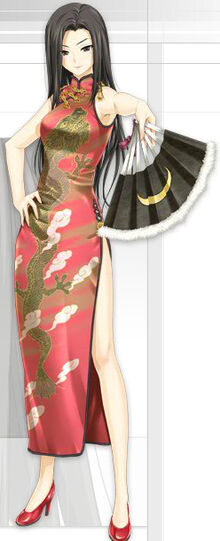 Getsurei Ryu is a Japanese-Chinese diviner as a character in the animation Zettai Shougeki: Platonic Heart.
OVA 11~12 episodes.
Female adult with black eyes and black hair that is to waist length.
Getsurei is Hybrid diviner, her mother is Japanese and father is a Chinese businessman. When she was young, she was able to understand other people's psychology, so she saw other people's ugly parts and became distrustful. Divination is only necessary for survival, but in fact it is not interested in other people's affairs. Live with the black cat " Xin".
The heroine Aya faces her final opponent, Ryu Getsurei, a lady in red who says she is a clairvoyant who can see her heart. Getsurei tells Aya that the tournament is nothing more than a game, a trick by Miko. Angered, Aya defeats Getsurei, but not before the woman claims that Aya's heart has become "a sheet of darkness". Aya seems to snap and beats the woman to death, still hitting her after she has died. 
Community content is available under
CC-BY-SA
unless otherwise noted.