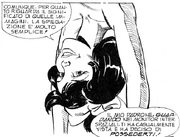 Genietta
is the hidden antagonist of the 1986 Italian sci-fi horror comic "Storie Viola #14: I Tre Desideri". She was created by Carmelo Gozzo (story) and Alberto Giolitti (artist).
A tiny genie who comes from the planet Jinn, Genietta crashes in to the bedroom of a woman on Earth named Candy. The genie explains that the rechargable battery of her spaceship ran out of juice, and asks the woman if she would help re-energize it. Candy charges it back to full power, and to show her thanks, Genietta offers to grant her three wishes.
However, the wishes only seem to make Candy's life worse, and by the time she's spent the third one, she's finds herself on the run from the law. It is here that Genietta offers to take Candy to her own homeworld, where she can hide away from all of the cruelty and persecution of Earth. The woman accepts, but upon arrival, Genietta reveals that her true plan all along was to get her to come to Djinn, so that she could present her to her master. The story ends with Genietta pleasuring herself as she watches her master rape and dismember the female Earthling.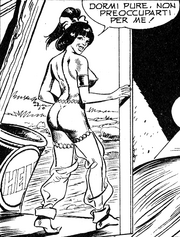 EvilBabes Unfiltered
Edit
Full gallery: Genietta (Storie Viola)
Community content is available under
CC-BY-SA
unless otherwise noted.