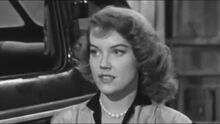 The uncredited Gang Moll (Barbara Bartay, 1921-1986) is the villainess from Pardon My Backfire, a The Three Stooges short released in 1953.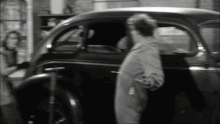 Gang Moll is like her boyfriend Charles one of four escaped convicts who came to the garage of the Three Stooges to get their damaged fender repaired. Charles orders her to flirt with the stooges, to get sure that they didn't find out the truth about the convicts. During that, the news radio blow their cover and the convicts start to attack the Stooges. The Gang Moll wants to attack Larry (one of the Stooges) with her knife, while Charles tries to punch Larry from the other side. Larry ducks down in the last moment and Charles accidentially knocks out the Gang Moll. She lays knocked out to the car with her eyes crossed while the Stooges take care of the other convicts. She is not shown again but since the police arrives later, she gets presumely arrested in the end.
Community content is available under
CC-BY-SA
unless otherwise noted.