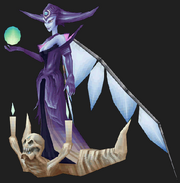 Freyja 
(
フレイヤ
) 
is a secondary antagonist in the 2008 Nintendo DS fantasy exploration RPG "Nostalgia"
, aka. "Winds of Nostolgio" (
ノスタルジオの風) by Tecmo
. She is a member of the Black Order, the primary villain organization in the game.
Freyja is a goddess of death that was sealed inside of Pandora's Box, located at the Acropolis in Greece. She has a special hatred for Fiona, whom she claims is pretending to be human when in reality she is a monster like herself. She battles the party, but loses, with the finishing blow dealt by Melody Farklight who gets fed up with her speech. A stronger, shadow version of Freyja can be fought on the fourth floor of the Tower of the Moon once post-game is made available.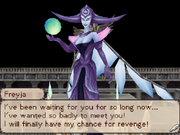 Community content is available under
CC-BY-SA
unless otherwise noted.