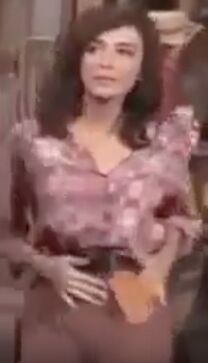 Francie (Julie Payne) is a minor antagonist in the 1965 episode 'The Young Marauders' for the TV series 'The Big Valley.'
Francie is a member of a gang and the lover of future redeemed villain Lloyd (Sean Garrison). Francie first appears when Lloyd and his gang return back to camp after killing a man who would no longer pay them not to attack his family. Francie notices Lloyd is in a bad mood and tries to entertain him, to no avail.
She later appears when the gang are going around town in a shop. The brunette beauty dances around holding a beautiful red dress to her body and making jokes about being the most beautiful belle in the ball, with the gentlemen vying for her attention. She persuades Lloyd to buy it for her, but is ignored when the lovely Audra Barkley (Linda Evans) enters. Lloyd knows Audra from the time he saved her life when she was almost killed by a herd of stampeding horses.
Later, Francie is at camp wearing her beautiful dress after Lloyd comes back from his date with Audra, although he maintains his cover by saying that he is only using her for information. She tries to seduce Lloyd again with her low cut dress but he sends her away.
She is finally seen when Lloyd is deposed as leader by his second-in-command and Audra has been captured in the background. She is presumably arrested later when the sheriff and his men are sent to camp.
Community content is available under
CC-BY-SA
unless otherwise noted.