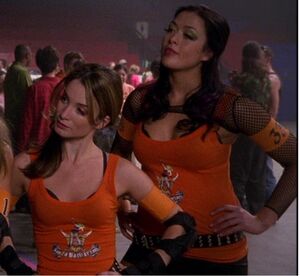 Denise Fox
(Sydney Bennett) and
Cynthia "Speed Freak" Wilde
(Aliyah O'Brien) are the main villainesses from "Talk Derby to Me," episode 3.07 of
Psych
(airdate September 5, 2008). They were part of a group of evil roller derby girls who were robbing department stores; committing smash and grab robberies as a cover for their true scheme: stealing credit card information.
Fox and Wilde committed the thefts with fellow members Toxic Waste and Rita Westwood, nicknamed "Lethal Weapon." The pair encountered Juliet (who went undercover as a roller derby player) and praised her on her performance. Later on, the pair's villainous role was revealed when Wilde spotted Shawn and Gus (who they also encountered earlier) at the scene where a mannequin was dumped in a marina by Rita on the previous night. She was on the phone with Fox, stating to her partner that Rita had screwed up and brought the police closer to their scheme. The pair plotted to kill Rita, which they did after their phone conversation, and planned to target Juliet as well.
Later that evening, Fox and Wilde set up Juliet to be assaulted by the opposing team, and having seen this, Gus entered and saved Juliet, while also outing Fox and Wilde as the robbers. Both villainesses (along with Toxic Waste) were arrested by Lassiter.
Aliyah O'Brien also played evil vampire queen Afina on Sanctuary, and appeared as the evil Kim Balmain in Garage Sale Mystery: Guilty Until Proven Innocent.
Community content is available under
CC-BY-SA
unless otherwise noted.