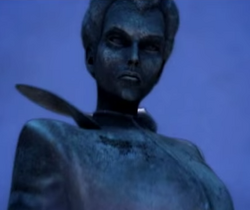 Firella is an evil sorceress who is the villainess of the 2012 hidden object game Spirits of Mystery: Song of the Phoenix.
Long ago, the evil witch Firella, a terrible woman with great dark powers, had arrived in the Phoenix Kingdom. Firella was defeated in a duel and petrified by the magic of the kingdom's archmage Brashire, but he failed to kill her, as only true love could vanquish her completely. Brashire's prophecy states that when Firella revives 300 years later, she will rule the world forever. But the same prophecy also states that if the kingdoms of kingdoms of Dragon and Phoenix are joined in peace through true love before then, the witch's power that protects her will be broken and finally she will die.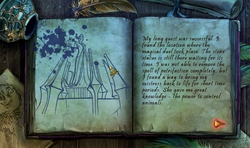 Now Brashire's spell is about to wear off soon. As the two kingdoms prepare for the marriage between the princess of the Phoenix Kingdom and Thyrian, the prince of the Dragon Kingdom, dark forces are conspiring against it. The prince has gone missing and Isa, his power-hungry wicked brother and secretly a devoted follower of Firella, now sits upon the throne and plans to bring back her to life for them to reign together.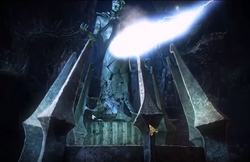 To save the world and her fiancée, the princess embarks on a magical journey to stop the evil plot before Isa can make his mistress finally break free from her prison. With the aid of the ghost of Brashire, all ends well as the marriage does happen and Firella still in her stone form is destroyed once and for all.
Isa himself returns in the next game with a new evil-witch-love, named Mortis.
Community content is available under
CC-BY-SA
unless otherwise noted.