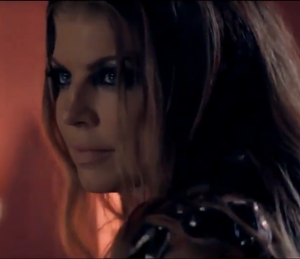 Fergie
is an R&B singer who appeared as the main villainess in the music video for her single with Slash,
Beautiful Dangerous
(release date October 28, 2010).
The beginning of the video establishes Fergie's true demeanor as a psychotic villainess, as she is shown obsessing over Slash, with various photos of him taped all over her wall. She is also shown watching Slash perform on TV, and even making suggestive and sexual advances towards the televised Slash. Later on, Fergie went to a concert where Slash was playing, and she later followed him to a strip club, where they both exchanged glances. It later becomes outright flirting, but at that moment, the evil Fergie laced Slash's drink with a drug, after which she took the doped-up Slash to a hotel.
At the video's climax, Fergie has Slash tied to her bed, where she makes suggestive poses on top of him--all the while Slash struggles to escape. The deranged villainess later took out a knife and continued her seduction towards Slash, with the video ending with Fergie stabbing Slash to death.
Fergie also appeared as villainess Ann on Married...With Children.
Community content is available under
CC-BY-SA
unless otherwise noted.